2019 District 13-OH2 Officer Training School 
May 4, 2019 @ 9:00 am

 – 

 3:00 pm
As your club holds your official officer elections, enter your newly elected officer information into myLCI.com under the OFFICER tab.
Then, complete the following form to let the District know who from your club will be attending Officer Training School this year.
IT IS HIGHLY RECOMMENDED THAT ALL INCOMING SECRETARIES & CLUB SERVICE CHAIRPERSONS ATTEND THIS TRAINING TO LEARN THE NEW REPORTING SYSTEM!!!
CLICK HERE for registration form  (PDF format)
Schedule for the 2019 Officer Training      To be posted closer to the date
Also to be distributed at Officer Training:
Presidents' packets with updates on important dates for visitations and upcoming events
Step-by-Step log-on packets for MyLion (and help for the computer platform change-over)
Informational flyers for next year's convention and district events
We hope to see everyone there!
Guiding Lions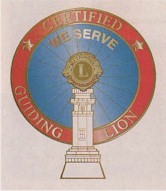 It is no longer a requirement to have served as club president in order to serve as a Guiding Lion. 
The Guiding Lion Program is recommended as a foundation to anyone who will work with new or existing clubs or serves (or plans to serve) in a leadership or mentoring position in your club or beyond. 
Upon completion of the workbook (link here) and signatures of the Leadership Team and District Governor, you can officially become a Certified Guiding Lion for your zone.
Necessary Materials to complete workbook
Contact Lion Ann Miller (see directory) if you are interested in the Guiding Lion session at District Officer Training (Leadership School) on May 4.  All are welcome, but it helps to plan for numbers.
The Guiding Lion Program is designed to assist clubs that are newly chartered, established or determined as priority designation. Certified Guiding Lions are assigned for a two-year term by the district governor in consultation with the sponsoring or established club president.
Guiding Lions assist a newly chartered club to:
 Be successful in its first two years of operation
 Orient and train club officers and members
 Motivate and support club growth and development
 Locate resources available to assist the club
In established Lions Clubs in need of mentoring, a Guiding Lion assists club in areas of: rebuilding, recruiting new members, training officers and providing meaningful community service.
Guiding Lions are encouraged to complete the Certified Guiding Lion Course to improve their skills in club support. The course is designed to be completed individually or facilitated by an instructor. All Certified Guiding Lions are required to take the course every three years.
2018-19 District Directory
CLICK HERE to connect to District 13-OH2  2018-19 Online directory
2019 Newsletters
District OH2 Newsletter
CLICK HERE for the February newsletter in PDF
CLICK HERE for the March newsletter in PDF
District 13 OH2
Online forms:
Necrology Reports:
Visit Necrology page to submit death reports.  2018-2019 form ONLINE NOW
Learn digital skills: